We all love hosting our WordPress websites on Siteground, that is why we keep getting back into it. Either for its easy to use interface, budget-friendly plans, and fast hosting offering. But now there's a dilemma, they have now stopped servicing most of the Asian countries including Japan, Russia, India, and the Philippines.
[See more list of unsupported countries]
In the example image below when you select your country, you'll get an error message saying:
"ERROR! SiteGround services are not available in the selected country."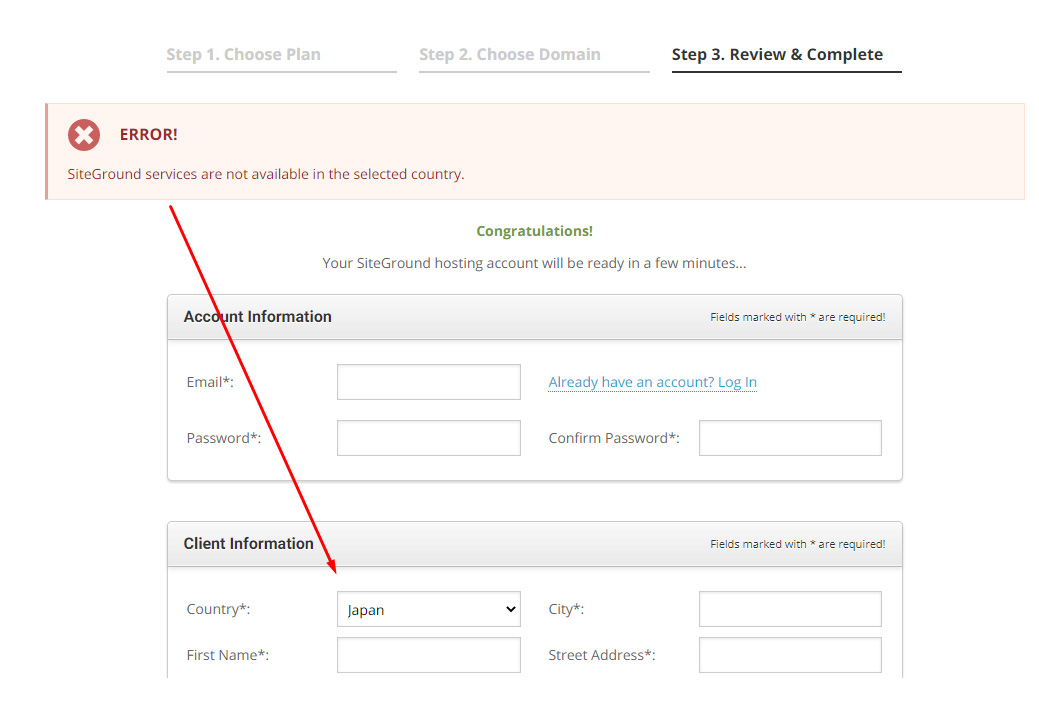 There are 5 major reasons why SiteGround has stopped servicing in your country:
Legal issues
Local Requirements
Heavy Regulations
Taxation Complexities
Profit
Unfortunately, due to the combination of these factors, they have decided to stop servicing selected countries, majorly in Asia. Siteground is not very specific with the details and not that forthcoming in terms of providing more information to the public on why they made this massive decision dated November 2020.
What does this mean for current users that are residing in an unsupported country?
The good news is SiteGround still allows plan renewal for its current members. The only affected for the unsupported country error are the new users.
Here are the list of major countries that SiteGround stopped servicing:
Afghanistan
Albania
Algeria
Angola
Armenia
Bahrain
Bangladesh
Brunei
Burundi
Cambodia
Cameroon
Cape Verde
Central African Republic
Congo
Egypt
Ethiopia
Fiji
Georgia
Ghana
Iceland
India
Indonesia
Iraq
Japan
Jordan
Kazakhstan
Kenya
South Korea
Kuwait
Laos
Lebanon
Liberia
Libya
Madagascar
Malawi
Malaysia
Maldives
Mali
Mauritius
Mongolia
Morocco
Myanmar
Namibia
Nepal
New Zealand
Nigeria
Norway
Pakistan
Philippines
Qatar
Russia
Saudi Arabia
Serbia
South Africa
Sri Lanka
Taiwan
Thailand
Turkey
Ukraine
United Arab Emirates
Vietnam
Yemen
Zimbabwe
What hosting alternatives would I choose that are on par with SiteGround?
If you can't avail SiteGround in your country. The best alternative we suggest would be CloudWays, FastComet or BlueHost.
We are still cooking up the best and detailed comparison on these alternative hosting to SiteGround.
We hope that this article helped you clarify any questions you have in mind regarding SiteGround's decision to stop their services in your country.